Kevin Stowe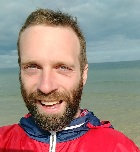 Current Research Projects
At ETS I am working on generating content for testing and educational applications. We're striving to build high-quality, bias-free solutions for education, and it's an exciting team to be a part of!
Previous Projects
Creative language generation: exploring possibilities for generating all sorts of novel language (humor, metaphor, etc) using deep learning. Are end-to-end models sufficient, and if not, how can we improve them to handle this difficult area of language?
Social media collection and analysis for crises events, supporting citizen science efforts to annotate the never-ending stream of data that can contribute to our situational awareness, including the COVID-19 crisis. Our goal is to build a system for quick and efficient data collection and annotation to improve responses to natural hazards. Our collection uses the helpful Nasty Scraper for collection as well as the powerful INCEpTION tool for annotation.
Doctoral dissertation on syntactically motivated approaches to metaphors, with the CLEAR group under Profs. Martha Palmer and Jim Martin. I studied how syntax can influence metaphoric properties, and this can be leveraged to improve deep-learning metaphor detection.
Worked for the Project Epic lab with Profs. Leysia Palen and Kenneth M. Anderson. We collaborated with NCAR to analyze responses to hurricanes, and build improved computaitonal methods for data analysis and exploration in order to assist researchers understanding the effects of natural disasters.