Kevin Stowe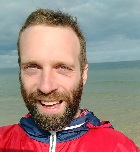 News
What's the difference between "free" and "controlled" metaphor generation? Does it help to know which metaphors you're generating, or are deep models good at making up their own? Our paper (with my student Nils Beck and Prof. Dr. Iryna Gurevych) Exploring Metaphoric Paraphrase Generation, accepted to CoNLL 2021, explores these questions and more! Link and repository coming soon!
Metaphor generation is hard, but it can be improved by adding conceptual metaphor information! Our paper, Generating Metaphors with Conceptual Mappings has been accepted to ACL 2021. See our GitHub Repository and System Demonstration! Collaboration with Tuhin Chakrabarty and Smaranda Muresan from Columbia University, Nanyung Peng at UCLA, and Iryna Gurevych at TU Darmstadt
The research group at the University of Colorado is releasing a new Version 2.0 of the Semlink Resource: check out our upcoming publication in IWCS!
Work
I'm currently a postdoctoral researcher with Prof. Dr. Iryna Gurevych at the UKP Lab in Darmstadt, Germany.
I previously worked as a research assistant at the CLEAR Lab at the University of Colorado under Prof. Martha Palmer while pursuing my PhD. I also worked for Project EPIC under Prof. Leysia Palen.
Education
I completed my PhD. from the University of Colorado in August, 2019.
BA in Linguistics from Michigan State University in 2009, Masters in Linguistics from Indiana University in 2010.
Interests
Computational creativity: How do machines process creative language? Can we detect it? Can we generate it? Metaphors, metonymy, sarcasm, humor, and more all pose significant challenges even to state-of-the-art systems.
Crisis Informatics: How do we best make of use of the massive amount of data created during crisis events (including natural disasters like hurricanes, terrorist events/wars, and pandemics like COVID-19)? Social media can help, but applying NLP can be difficult, and we deal with issues of data collection and annotation, machine learning, and ethical issues.
NLP for Social Good: Relatedly, how can we leverage the vast amount of power AI has to improve peoples lives in concrete ways? How do we deal with ethical issues, problems of inclusivity, and systematic bias in data, systems, and researchers?
Language: My background is originally in linguistics - I'm always interested in studying linguistic problems, particularly in semantics and pragmatics. Other areas of interest include construction grammar, frame semantics, and creative language.